Same Old, Same Old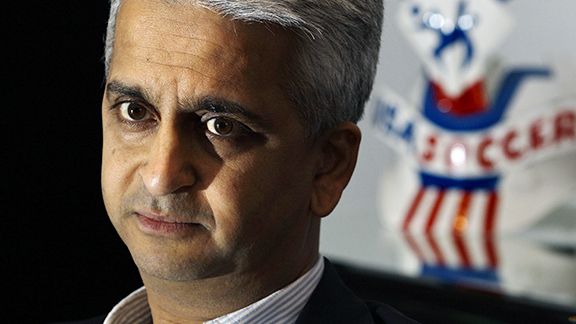 At least I'm happy I got in writing that
Bob wouldn't call in Beasley anymore.
"Yeah, I forgot to do that."
Let's play a little multiple guess and see if you can figure out who said that.
A. Antonio Cromartie on getting a vasectomy after his seventh kid.
B. Bushman on blogging this week (he is getting old, ya know).
C. Bob Bradley after announcing the roster for the Poland and Colombia games as it relates to his commitment to moving the national team forward.
D. Walsh on drinking a glass of water before bed to stave off a sangria induced hangover.
The actual answer is B. But all are probably correct (though I still managed to avoid a hangover this morning, for the record).
As for Bradley's roster, it's nice to see Eric Lichaj get the call in, if for nothing else than to figure out how the hell to say his last name. And Brek Shea might have a future ahead of him in for the US. But other than that there aren't any new faces that spark some excitement for 2014.
Alejandro Bedoya is a relatively fresh face, but we knew he'd be in the mix after the pre-WC camp. Stu Holden, who barely saw the field in South Africa, should start playing more now that he's pulling the strings for Bolton. Other than that it's getting the band back together again.
I understand that Bradley is limited and can't call in many MLS players, which is why Landon Donovan won't be playing. (Not to beat a dead horse, but that doesn't happen if MLS adheres to FIFA's schedule. Which will never happen.) But I don't understand the argument that Torres doesn't get a call because he's not playing much while everyone's excited for Gooch so he can actually get some minutes. Again, I understand that Gooch is on the bench at a much better team, but the logic doesn't work for me.

As for some of the other zombie internationals -- Michael Parkhurst who has proven he doesn't have the pace for the international game and Eddie Johnson who can only score against Panama -- I can't understand the calls. Again, I know the pool was diminished by a lack of MLS guys, but a couple of teams are out so why not give Justin Braun (Chivas), Geoff Cameron (Houston, and back from injury), or Kevin Alston (New England) a call? D.C. United doesn't have anyone worth a look until Andy Najar picks the US over Honduras.
Having "said" all of that, it's going to be a tough next four years. Jozy is missing chances as often as Bushman doesn't blog while Javier "Chicharito" Hernandez is scoring exquisite game-winners in Champions League. As a result, the prospects of the U.S. maintaining their claim as CONCACAF's best team are slim. For as much grief as we give Bradley around these parts, we do admit that's not fully on him if he doesn't have the players like the ones Mexico are producing.
However, it would be nice to see a new formation -- preferably the "Christmas Tree" 4-3-2-1 with Jermaine Jones, Mo Edu, and Michael Bradley behind Holden and Dempsey with Jozy up front -- in one of these two games. At least that would make me think that Bradley's learned a little something in the past few months.
Other stuff…
- Speaking of Mexico, it looks like the Yanks won't be making any trips to the Azteca in the near future. Or maybe ever.
With the likely change in qualifying for the World Cup from CONCACAF, the only time the U.S. will meet Mexico is in the Gold Cup and friendlies. Both will happen in the U.S. because so much more money can be made here.
It's a sad situation as that means even fewer tough road games to toughen up our boys. In addition to not traveling to Mexico City, it would be likely that we'd go either to Costa Rica or Honduras, but not both. Trips to Canada, Trinidad & Tobago, or Jamaica just don't replicate those atmospheres. I wonder how much of a long-term effect this has on how CONCACAF does in the next few World Cups.
- One last bit about USSF: some fans are clamoring that Brian McBride should've received a testimonial as the Poland game is in Chicago. This is definitely a concept that U.S. soccer in general, namely MLS, needs to have more of. In fact I wrote about it years ago for Goal.com when Marco Etcheverry was retiring from D.C. United. There might be others, but the only testimonial I remember was for Harkes at United. And he ended his career with Columbus. In England the rule is 10 seasons with a club. Harkes had 3 years with the Black-and-Red and only seven in the league. Not saying it was inappropriate but shouldn't Etch get one too? Jaime Moreno has to have one next year or the front office will lose even more face, if that's possible.
But back to the topic at hand: I'm not so sure about McBride getting a testimonial. It would've been a nice tribute. But if USSF wanted to do one for McBride, it should have been done after the '08 Olympics and officially joined the Fire. The surprising thing, though, is this seems like an easy way for USSF to make money, which in many ways is their main goal.
- Last week I blasted MLS for their lack of a big dollar fine for Thierry Henry. This week, they docked Ben Olsen a total of $1,250 - $500 for the ejection, $750 for dissent -- for shaking Dom Kinnear's hand. Now, I'm sure that MLS holds coaches to a higher standard, as they should. But doesn't that disparity seem ridiculous? I suppose not when you consider MLS is involved.
Think that's about enough ranting for one week. Bushman has as much of a chance of blogging next week as the Skins have of winning in Philly this week. I'll be back and try to look on the lighter side of things. Thanks as always and have a great weekend.
Oh, one last thing: Go Terps!
- Pat Walsh
Labels: Walsh