Jurgen-na Stay Unemployed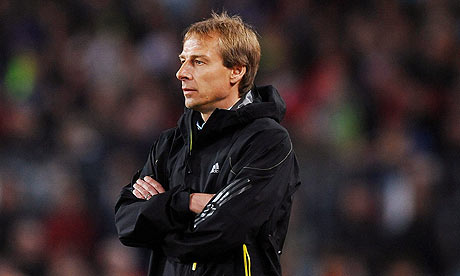 "I even tried showing Sunil my best Bob Bradley impersonation."
So now that it's come out that Jürgen Klinsmann was incredibly close to taking over the U.S. MNT gig, there is even more pressure on Sunil Gulati. Once again he didn't get his first choice over some relatively minor details. We may never know if it was control over the youth system or, as friend of the blog Grant Wahl opines, final say over friendly opponents and location.
The reason I bring this up, again I know, is if talks persisted three to four weeks, why not talk to a few other people? I'm not saying you had to hire them, but have some due diligence.
And for the notion that the coach "has to know the American player" to that I call BS. Prime example: Hans Backe. The Swede has come in and turned a perennial losing organization, the NY Red Bulls, into a Cup contender even before Thierry Henry (more on him later) and Rafa Marquez showed up.
That he's done so at a club where Bob Bradley failed to me is even more evidence that it's not necessary. It's a small sample size for sure -- plenty of foreigners have failed at NY/NY MetroBull -- but it pokes a hole in the initial theory.
One last shot at Bradley: is it just me or is it amusing that while head coach of the then MetroStars, Bradley traded Ricardo Clark to San Jose 1.0 for a bag of balls (allocation money). I know that was one of the questions asked by Alexi Lalas when he took over as GM of the team, for which Bob had no answer. It's a shame he couldn't have traded Rico to another country last summer.
Some other thoughts…
- Really MLS? A whole $2k for Thierry Henry knocking Kevin Hartman out for 6-8 weeks? I think it was an NFL player recently who was saying that fines should be a percentage of your paycheck and not flat fees. Maybe it was an MLS guy, I can't remember. But in this instance that should be applicable here. A guy making well north of $5 million shouldn't have to write a check for 0.036% of his salary for an idiotic play. By comparison, if a guy making $40k (league minimum) gets fined $250, the standard penalty for a red card, he's being fined 0.6% of his salary. That makes as much sense as the Skins playing a prevent defense against one of the most explosive offenses for the entire second half. It is appropriate that Henry is injured for tonight's big show down at the HDC, though.
It's just sad that Hartman, in the midst of a great season for a resurgent FC Dallas, had to be the one hurt and not Zach Thornton. Granted, Henry probably would have hurt himself trying to kick a ball with Thornton's large boot on blocking the path. However, Thornton had a post-goal run in with Jaime Moreno a few years ago at RFK that I thought led to a crack down on the offensive players going for the ball after a goal was scored. (However, I could be wrong as I sometimes am.)
- I know I've said it before, but now that Rafael van der Vaart is proving himself in the EPL, why didn't Sir Alex Ferguson ask for him in part of the compensation from Real Madrid. Looking back at last summer, it is amazing to me that Arjen Robben was sold for €10 million more than Wesley Sneijder. Furthermore, it's baffling that those two combined (€40 million) were sold for less than Madrid may pay for Karim Benzema, should he hit the proper incentives (€35 million with a possibility of going up to €41 million). And people wonder why Madrid are massively in debt.
- Why, in my big money fantasy league, did I have to face Arian Foster and Jahvid Best in back-to-back weeks? It's as perplexing as having to root for Kyle Orton. Which I am sadly doing. Thanks Kevin Kolb. And **** you Andy Reid. This week I'm fully expecting Ronnie Brown to go for 200 combined yards and three TD's against the Jets.
- Have a few seconds? Of course you do, you're reading this blog. Go here and vote for Heather Stouffer, friend of the blog Craig Stouffer's wife.
- Have more than a few seconds? Probably, because it's Friday and you don't want to work. Go here and listen to Vol. 6 of the Jimmy Conrad podcast with special guest, me! Then let me know which coach in MLS you wouldn't want to fight.
- Just to amuse myself, here are my answers to Bushman's questions:
1. No. Jose Mourinho is why.
2. It's a lack of headband.
3. You watch Serie A? I guess "Friends" or "Glee" wasn't on.
4. No. And Richie Williams talked himself out of the job too.
5. Yes. But no one at MLS HQ does.
6. See above.
7. I didn't say that. Stop putting words in my mouth.
8. When we had the Fun Bunch. Retire and let Kyle run things.
9. Who knows? It's a dog eat dog world. (Too soon?)
10. Because Jacobs is getting paid enough to buy another.
11. No idea. Oh, and unrelated, screw you Pierre Garcon!
12. Because Thomas Jones is a beast.
13. Only if Polamalu stays healthy (see my blog last week!).
14. Nope. He needs Cadillac Williams and Ronnie Brown again.
15. With Mike Green playing defense I have no confidence.
Thanks as always for reading. Especially to any new people from FASA. Have a great weekend.
- Pat Walsh
Labels: Walsh